As her new film Lovelace, is set to come out in UK cinemas later this month, Amanda Seyfried is certainly the actress
on everyone's lips at the moment.
It is no wonder that Glamour Paris wanted the 27-year-old blonde beauty on their front cover for their September issue.
The American model and actress was photographed in a oversized tartan shirt, a plain white T-shirt and a short, black skirt for the shoot.
Oh la la: Amanda Seyfried graced the cover of French Glamour magazine for their September issue in a chic ensemble
The former child model, who is well-accustomed to posing in front of a camera
,
pushed back her flowing blonde locks with her hand as she gave a smouldering pout to the camera.
Her left hand was clutching onto one of her three necklaces chosen for the shoot, which included a chunky gold chain choker, a delicate silver chain and the long pendant necklace.
Seyfried's long sleeves were rolled up, exposing her wrists which were both adorned with two chunky gold bracelet cuffs.
How does she do it? Even when Amanda was spotted leaving her London hotel the star still managed to look effortlessly chic in a beige mac, black boots with red laces, leather bag and dark shades whilst clutching a large bottle of water
The Mean Girls star's luscious blonde locks were blow-dried in a Hollywood glam style, and finished the look with cat eye liner and fiery red lipstick which accentuated her perfect pout.
E!'s Jennifer Chan has spoken out about the model's alluring looks, which were highlighted in the shoot.
'The 'Lovelace' actress can do no wrong in our eyes,' Chan said, 'and she proves that modeling is just one of her many talents as the cover girl of the fashion magazine this month.'
Perfectly styled: Amanda Seyfried is one of the actresses of the moment, and it's no wonder, as she keeps being spotted in head-turning ensembles
In another look, on the inside spread of the magazine, Seyfried looked stunning in a black crop top and matching skirt with a floral-printed jacket, with her blonde locks were swept to one side showing off her studded black choker.
She mesmerizes in another shot, dressed in a skintight, curve-hugging skirt with a floral and polka dot print, a midriff-baring black top and over-the-shoulder leather jacket.
Amanda, who is rumoured to be dating former That '70s Show actor, Justin Long, was recently in London promoting her new film where she plays the most famous porn star of the 70s, Linda Lovelace, which is out in UK cinemas on August 23.
Amanda Seyfried opens up about controversial nude scenes in Lovelace as new topless promotional stills are released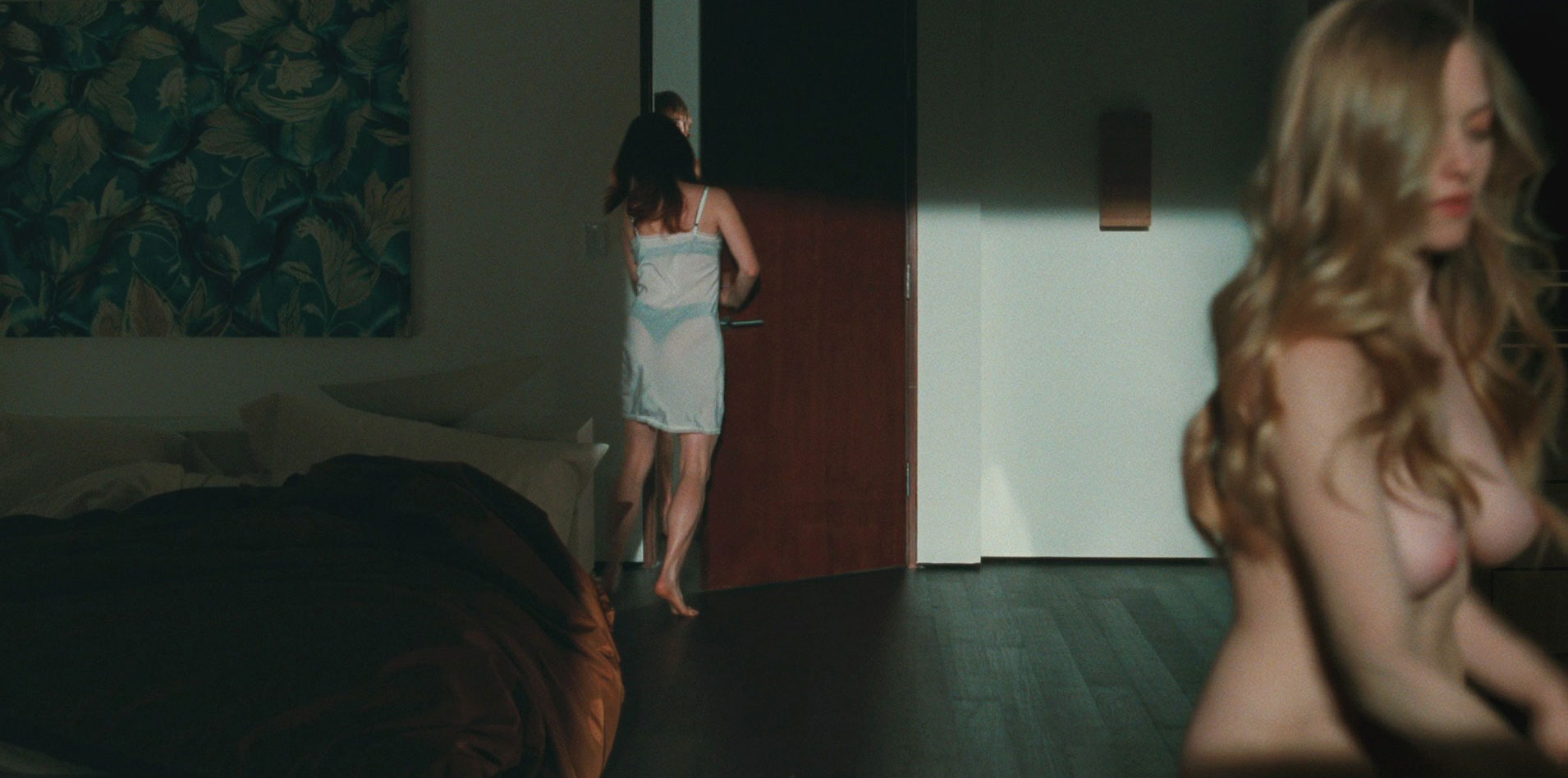 She's made a name for herself as one of Hollywood's squeaky clean rising stars after breakout performances in Mamma Mia! and Mean Girls.
But Amanda Seyfried has embraced her darker side for eagerly-awaited new biopic Lovelace, posing topless in a number of newly released promotional stills for the film.
Admitting that her first thought after signing on to the project was 'this could ruin my career', the star has now admitted that the controversial nude scenes made her feel liberated.
Scroll down for video
The 27-year-old actress, who plays former porn star Linda Lovelace in the forthcoming film, certainly looks like she's shrugged off her inhibitions as she posed for the camera.
Getting into character as the star of Deep Throat, which is known as the most famous X-rated film of all time, the young actress throws her arms above her head as she smiles sweetly.
Speaking to
The Sunday Times Magazine
, she said: 'This is the riskiest thing that's happening in Hollywood right now.'
Confident star: Amanda has admitted that she found her nude scenes liberating as she portrayed former porn star Linda Lovelace
Provocative: The actress, who is better known for her more wholesome roles, admitted that she was worried about how the part would affect her career
She went on to admit that she was worried that accepting the controversial role would be career suicide for her, saying: 'The first thing you think about is that it could ruin my career.'
The role required that Amanda go topless in a number of scenes, boldly baring all as she attempted to recreate the life of the porn star turned activist.
But while she may have been concerned about the racy scenes at first, the A-lister admitted that she became unfazed by it.
'It's funny, because I felt liberated when I was doing it. I'm sure people that are very protective of me wouldn't feel very comfortable with that, but it's like, what's the big deal?' she said.
Controversial role: Amanda plays Linda Lovelace who starred in Deep Throat, opposite James Franco as Hugh Hefner
Transformation: The actress ditched her mane of blonde hair and sports a curly brunette wig in the film
'Growing up I was made to feel nudity was wrong because everything was always censored in movies, and it was just like, why are we covering ourselves up?' she added.
The Big Love actress donned a brunette curly wig to play the title role in the biopic about porn star Linda Lovelace.
Seyfried recently revealed that she had fun simulating oral sex on her co-star Peter Sarsgaard, who plays her husband-turned pimp Chuck.
'The simulations were fun to shoot!' she told Vanity Fair.
'Because they are ridiculous at the end of the day. So fun! I mean, I had a popsicle. That was my idea. It was melting all over him.'
Geek chic: Amanda looked a far cry from Lovelace as she was spotted walking her dog in New York during the week